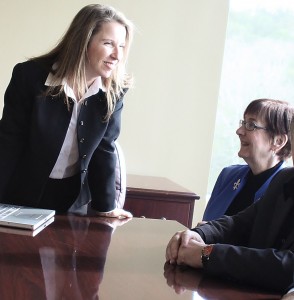 Michelle Foster Earle is passionate about helping clients achieve excellence in performance, reputation, market position and profitability.  As the President of OmniSure Consulting Group, she is known as an enthusiastic visionary and out-of-the-box thinker with an entrepreneurial spirit and unique blend of operational, sales, and executive skills.
"To succeed in business, you have to take risks.  There are going to be mistakes and surprises along the way.  That's why we have insurance.  So, live, laugh, love.  And learn.  Just learn from the mistakes of others when you can."  Michelle says with a witty smile.
Her strong background in healthcare organization turn-arounds, new start-ups, and flagship facility management has helped OmniSure's insurance partners, client hospitals, healthcare facilities, and providers of healthcare and social services nationwide, reduce risk and improve performance.
In addition to designations as a Licensed Nursing Facility Administrator, Licensed General Lines Property and Casualty Agent in Texas, and Associate in Risk Management, Michelle holds a Bachelor of Arts degree in Psychology from the University of Houston.
Michelle is a member of a number of professional organizations including, the Professional Liability Underwriting Society, American Society for Healthcare Risk Management, American Health Care Association, Leading Age, Academy of Correctional Health Professionals American Correctional Association, and others.
Personally Michelle believes strongly in giving back to society.  Over the past two years, she and her husband have financed over 400 microloans in 30 countries with a strong emphasis on empowering women to launch community changing businesses in underdeveloped countries, through KIVA.
She resides in Austin, Texas where she balances her life as an executive with a large and fabulous family.