FOR IMMEDIATE RELEASE
Bellevue, Wash. – July 1, 2013 – Ultra Risk Advisors (formerly NSU Healthcare), a national insurance program manager, is rolling out a new series of informational videos, highlighting the company's specialized programs for healthcare facilities and professionals.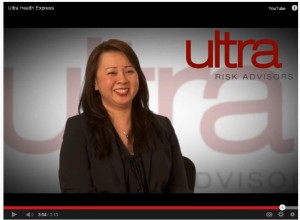 "We provide as much useful information as possible to our retail broker partners – not only about our programs but trends in the industry – to help them better serve their customers," said Chris Randall, President and CEO of Ultra. "We have developed specialized programs for niche markets within the healthcare industry – specifically professional and general liability coverage for outpatient medical facilities, imaging centers and radiologists, non-standard physicians and healthcare professionals working in the corrections field. We thought a video series would be a great way to begin to get the word out."
The short videos, featuring Ultra staff giving quick overviews of each program, are posted on the Ultra website www.ultrariskadvisors.com, on the Ultra LinkedIn company page and on the Insurance Journal TV website. They were produced in conjunction with Go-Net-Yourself, a Bellevue, Washington video production company.
About Ultra Risk Advisors:
Ultra Risk Advisors (Formerly NSU Healthcare) is a privately held commercial insurance program administrator and specialty wholesale broker based in Bellevue, Wash. The company also has offices in Chicago and Atlanta. Ultra specializes in professional and general liability insurance in the healthcare field. For more information, visit www.ultrariskadvisors.com.